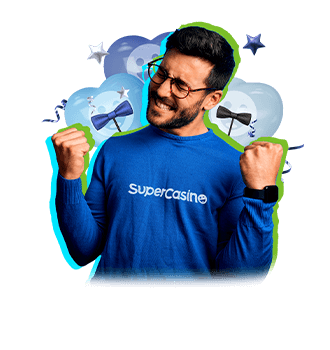 What better way to celebrate Men's Day than with a massive tournament?
Join now and play whatever you want in our Casino – for each €1 wagered you will get 1 tournament point. Finish in the top 30 to win up to 200 Free Spins in Sabaton or the grand prize – 300 Free Spins AND a Paintball Battle in Saue!
Opt-in to the tournament and play in the Casino.
Earn 1 point for every €1 wagered in Casino games.
Finish in the top 30 to win up to 300 Free Spins and a Paintball Battle!
Promotional period: from 18th November (00:00) till 22nd November (23:59).
Terms and conditions
1. This game of chance campaign is valid from 00:00 on 18.11 until 23:59 on 22.11, Estonian time.
2. The campaign is available for customers with access to Supercasino account and who are at least 21-years old.
3. To take part in the campaign, a customer must opt-in to the campaign. Customers can only opt-in once.
4. The campaign is a tournament with a leaderboard with top 30 finalists.
5. To qualify for a place on the leaderboard customer must earn points by playing casino games:
a. For every €1 bet (real money) in casino games - the customer gets 1 point
6. Prize distribution for the TOP30 in the leaderboard is as follows:
b. 1 place - Paintball Battle (Saue) worth 160€ and 300 Free Spins in Sabaton
c. 2 place - 200 Free Spins in Sabaton
d. 3 place - 100 Free Spins in Sabaton
e. 4-10 place - 50 Free Spins in Sabaton
f. 11-20 place - 30 Free Spins in Sabaton
g. 21-30 place - 15 Free Spins in Sabaton
7. The final results of the campaign will be published on the campaign promotion page on 23.11 before 18:00.
8. Main Prize is a voucher for a Paintball Battle (Saue) that can be exchanged for any other present worth 160€ in https://www.kingitustesaar.ee/et/
9. Customers can opt-in any time during the campaign period and turnover results will be counted for the whole campaign period.
10. By opting into the campaign, the customer gives Supercasino permission to showcase the customer's first name, the first letter of the last name and collected points amounts in the leaderboard. And permission to be contacted by a Supercasino representative.
11. All qualifying will be credited with the Free Spins latest on 23.11 by 18:00.
12. Free spins can only be used in the Sabaton slot game. The value of one spin is €0.10.
13. Free Spins are valid for 3 days after they have been credited to a customer's account and if they are not used within that period, they will be annulled.
14. All winnings resulting from Free Spins must be wagered at least 1 time during 3 days in the slot games of the same provider (Play and Go) before they can be withdrawn or used in other products (other provider or website category). If the wagering requirement for winnings resulting from Free Spins is not met, the winnings will be annulled.
15. Only real money bets are counted towards wagering.
16. In case the customer balance was 0 when the customer started using the Free Spins, he/she needs to make a deposit.
2. For example: if you received 20 Free Spins in Starburst and won €3.50 with 1-time wagering and you have 0 balance. It means you need to make a deposit of at least €3.50 (€3.50*1 x wagering) and wager the bonus (place bet's worth (€3.50) with real money either in Starburst or any other game by NetEnt provider.
17. This offer is only available if your personal deposit limit has not been reached, or, if you have reached your deposit limit you are not eligible to take this offer.
18. The maximum bet amount with bonus money is €6.
19. Casino bonus cannot be wagered in excluded games. List of excluded games can be found from here.
20. SuperCasino reserves the right to amend, cancel, reclaim or refuse any promotion at its own discretion.
21. In case of any discrepancies in the information, please follow the Estonian version of SuperCasino general terms and conditions as primary.
22. In case of any questions, please contact support: [email protected]
23.In addition to the above, Supercasino standard terms and conditions apply.
24. These terms and conditions were last updated on 15.10.2021 at 13:45 EET.
25. In addition to the above, Supercasino standard terms and conditions apply.